Hansa Green Tour visited the Energy Acadeny on the 5. of June. an international networking tour for sustainable entrepreneurs and policy makers who want to promote sustainable technologies and explore business opportunities in the Netherlands, Northern Germany and Denmark.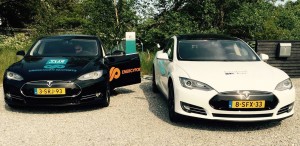 Hansas came in connection with Samsoes sustainability festival and was the caravan last stop in Denmark. 35 representatives from businesses, Public companies and authorities from Netherlands and Germany. In the caravan was a wide array of cars fueled on alternative energy. 3 Teslas one electric Kia Soul one completely electric motorcycle five hybrid cars with both Porches and the stunning BMW 8i and a truck running on LNG gas the same fuel as the new ferry to Samsoe. The goal of the caravan is to see who can let out the least Co2 by the end of the race the one with least emission will win and award, awarded by hansa.
It was all opened by Samsoes mayor Macel Meijer and was a good opportunity for the locas to see what electric also can look like.