Newsletter: Positive Change and springtime that's filled with news

The new format of our newsletter brings you shorter, more frequent news stories to all of you who are following us from around the world. The old format needed to be updated in order to match the speed and frequency of the various projects and events that Samsø Energy Academy works with locally, nationally and internationally.
The primary purpose of the new format is to meet the needs of our 3,000 readers, so you aren't limited to reading it on a computer; the new, simpler format makes it easier to read on a tablet or smartphone as well.
From now on, you'll receive one newsletter each quarter, where the staff of the Energy Academy will share their knowledge and provide information about what we're working on.
This edition of the newsletter is the first one of 2017. It's written by journalist Cecilie Meyer and Malene Lundén, who is the head of the Energy Academy's communications department. They've put together this new content, and chosen who at the Energy Academy will tell you about what Samsø Energy Academy is currently working on, based on their knowledge and experience.
1: Samsø Energy Academy as seen from the perspective of an external consultant
The Energy Academy is not a corporation, private company or public institution. Yet what is the Energy Academy? And what are the qualifications for working at the Energy Academy?
Cecilie Meyer interviewed external consultant Lars Lundbye, who is currently studying the Energy Academy. He works with business development and is an expert in innovation. Lars' perspective on the world of the Energy Academy is based on his many years of experience with sustainability:
"The Energy Academy is primarily a real place, physically located on the island of Samsø. Through the past 20 years, it has developed an extensive toolbox in relation to community power."
Its strength and identity is in particular historically based, where the inhabitants of the island have been the deciding factor in making Samsø Denmark's Renewable Energy Island, being 100% energy self-sufficient. Having its base in the local community functions as a foundation for the Energy Academy's extensive international work, where according to Lars Lundbye, the Energy Academy enables change, helping others around the world to understand the benefits of community-supported renewable energy.

2: Almanac:
What took place at the Energy Academy from January to April
Samsø Energy Academy's Annual General Meeting
Samsø Energy Academy has held its Annual General Meeting, and the year ended with a satisfactory annual report. The Board thanked Einar Mortensen, who has been with the Samsø Environmental and Energy Office for 20 years, for his efforts and stable, loyal work.
A new member of the Energy Academy's Board, Lars Nikolaisen, moved to Samsø from Bjerager, outside of Odder in Jutland (Western Denmark). Lars is a retired engineer from the Danish Technological Institute.
Organisations wanting to become members of the Energy Academy can call Anne Boisen Albertsen at +45 25 33 22 75 for information.
You can find the Energy Academy's statutes here:
http://arkiv.energiinstituttet.dk/71/

Energy Tours with the Energy Academy
Approximately 3,000 professionals from among 88 groups visited Samsø Energy Academy in 2016 in order to find out about the experiences and processes that have been crucial for Samsø's status as Denmark's Renewable Energy Island based on the phasing out of oil, gasoline and diesel.
Like tourists who vacation on Samsø, these professionals who visit Samsø also contribute directly to Samsø's local economy.
The Energy Academy's Samsø Energy Tours has become an important aspect of the Energy Academy's offerings, and is popular with visitors from around the world. This quarter, a new publication, "The Pioneer Guide" and "Pioneer Anthology", was launched. It's 100% supported by the Velux Foundation and Danish Energy through the Energy Fund. Both "The Pioneer Guide" and the "Pioneer Anthology" are the latest works from the Energy Academy that the staff has been trained to use and incorporate in their work.
Organisations from around the world are currently contacting the Energy Academy about courses in the Pioneer Guide, where professionals stay on the island for 1-2 nights instead of visiting just for the day. This also contributes to Samsø's local economy.
Find out about the Pioneer Guide at http://www.pioneerguide.com
Solid grasp on the goals for Fossil Free Samsø 2030
Michael Kristensen, who works with local energy consulting, energy efficiency project coordination and a fossil-free Samsø, is involved with the master energy plan Fossil Free Samsø 2030.
The Energy Academy is heavily involved in coordinating and working towards Samsø 3.0. We have a major role in working with our partner Samsø Municipality and advisors from Planenergi, where we are planning the milestones in the process that will turn the plan into reality. The plan is for all of Samsø's energy resources to be connected in a fossil-free Smart Energy System. It involves the entire island so that nothing goes to waste, and the island's energy resources are part of a circular system.
The biogas plant and electrified transportation are also part of Fossil Free Samsø 2030. We have established a biogas company, and we are currently carrying out an Environmental Impact Assessment of the biogas plant project, which is required for a permit to build the biogas plant.
Status on the conference It Stays on the Island, and the Circular Bio-economy Project
A public conference, It Stays on the Island, was held on February 24 together with Samsø Municipality, where island inhabitants chose to spend their Friday finding out more about Samsø 3.0. The Bio-circular Economy is Samsø Municipality's new project, which runs over four years. Samsø Municipality and the Energy Academy have launched two conferences for interested citizens. Stakeholders participated in the first conference, which revolved around six new initiatives: resources, education, think tank, retaining nutrients on the island, sorting of waste, and water circulation. At the following conference, which was open for everyone, 15 initiatives were launched, and it became apparent that there is great demand for a bio-circular economy on Samsø.
You can get an idea about the conference and what happened in the movies below with English subtitles: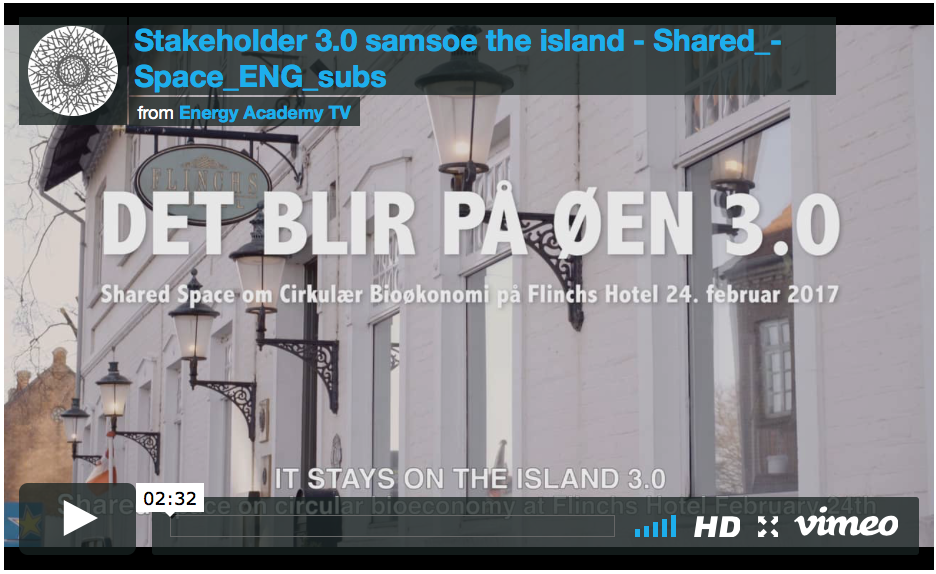 Green Days at Samsø Energy Academy
The Energy Academy and the local association Samsø Sustainability Festival are holding a number of public meetings, demonstration projects and cultural events from June 2-11, 2017.
You can find out about the time, venues and descriptions of the upcoming Green Days events at www.green-days.dk
3: Samsø Energy Academy enabling change
An important area of the Energy Academy's work is creating relations which result in knowledge sharing and cooperation between large and small organisations around the world. There are many organisations seeking advice on how to plan for sustainable development and planning their energy resources in order to benefit the local society. Samsø Energy Academy CEO Søren Hermansen is heading the department that includes an international project funded by KR Foundation, with partner organisations in Australia, Japan, and the United States. Part of the Energy Academy's roll in the project is to introduce the partner organisations to the Pioneer Guide and the Pioneer Anthology. The project's kick-off meeting was held in Fukushima, Japan, where the 2011 earthquake resulted in a nuclear power accident. Six years after the accident, the local area is still affected. People no longer travel to Fukushima, and large areas are deserted. The Japanese partner organisation, the Institute for Sustainable Energy Policy, is working to establish Community Power in numerous Japanese municipalities. Søren Hermansen is involved in Fukushima's New Energy Foundation, which supports local energy projects. The project's Australian partner is involved in two states, Victoria and South Australia, where Samsø Energy Academy met with politicians, participated in conferences, and in particular held workshops with local citizens.
Despite the great geographic distance between Denmark and Australia, the Energy Academy has seen once again that local communities around the world face the same global challenges:
There is a great, almost irresistible force that draws people to cities, resulting in rural areas losing their autonomy. The remaining inhabitants want action, yet often don't know where to start, and therefore re-establishing local ownership was a central element of the Australian workshops held by Samsø Energy Academy.
That's where Samsø started 20 years ago, by putting together a master energy plan that provided totality and direction for its citizens, asking them to put into words their challenges, successes, and mistakes. Based on this, we came up with specific tools to launch change and make possible the often unmanageable process of going from thought to action. Australia is a country with a very centralised energy distribution based on coal. Implementing renewable energy is one of the ways Australians in rural areas can revive their communities and regain control over their own situation.
Some of the people we met in Australia we knew of ahead of time, others not. At all the meetings with local inhabitants, we placed a lot of emphasis on the human factor, which plays an essential role in our approach: Who are they? What are their feelings? What is the mood? Understanding these things helps us provide people with tools that fit their specific situation.
Australian media was very interested in the Energy Academy's visit, resulting in some of the more prominent stories below:
Guardian: https://www.theguardian.com/sustainable-business/2017/feb/24/energy-positive-how-denmarks-sams-island-switched-to-zero-carbon
News.com.au:News.com.au: http://www.news.com.au/technology/environment/climate-change/denmarks-soren-hermansen-says-renewable-energy-is-stable/news-story/ae73db2be0ca237d9991782c3eb56f55
ABC online: http://www.abc.net.au/news/2017-02-27/renewable-energy-installed-by-community-groups-via-crowdfunding/8308476
Fairfax Metro: http://www.smh.com.au/comment/my-small-danish-island-samso-is-now-a-worldleading-green-energy-community-yours-can-be-too-20170226-gulh0h.html
4: Launch of the Positive Change blog
Why do we talk so much about being robust instead of being vulnerable? Is the centre always preferable to the periphery? And just how does a heat pump work?
At the Energy Academy, we are often so busy with practical things that we rarely manage to look at the more existential subjects that come up during the course of our work.
That's why we spent time this winter programming, designing and writing a new blog called Positive Change, where we have the space and opportunities to reflect on the questions that we and those around us are asking.
We will officially launch the blog during May, but you can already visit Positive Change online to get an idea of what we are creating. There will be a new theme each quarter, based on our conversations here on Samsø.
Each theme will be covered by an external guest blogger, someone who has something to say. In the most recent post, Professor Ole Fogh Kirkeby has written about Resilience. His thoughts and words are analysed from a Samsø perspective in an interview with Søren Hermansen, who examines whether Samsingers (inhabitants of Samsø) even think about foreign words and terms such as resilience.
You can experience Positive Change here: www.denpositiveforandring.dk. We're working on translating the blog into English – currently most of it is only available in Danish – but you can already read Søren Hermansen's blog entry in English:
http://denpositiveforandring.dk/en/category/sorenhermansen/
On Wednesday, May 17 from 5-7 PM, we will be officially launching the blog at Klub in Copenhagen. Everyone is welcome to join the celebration by simply sending an e mail to either or no later than the 5 of May, to confirm your participation. See more about Klub at www.klub.io