The Energy Academy has launched a new website
At the same time we are marking the transition to our new energy masterplan. For that reason we have decided to renew our graphic expression. The old windturbine has been replaced with a graphic form that illustrates network, growth and the sun as the center of all energy.
Please receive it well.
Visit abroad/ home
Japan has its first renewable energy fund
Ceo Søren Hermansen took part in the funding meeting where 1000 delegates said yes to decentral renewable energy in Japan.
USA is calling at Samsø twice during this autumn. Søren Hermansen gives lectures at Burlington, Vermont and Allegheny College in Pennsylvania.
Since last time
The former Climate Minister Lykke Friis visited the Academy. She was impressed and surprised by what we actually are working with both day-to-day and forward-looking.
The conference Next Practice called forth 40 strong network contacts from all over the world to two days of intensive work.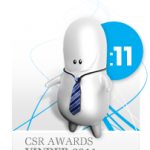 Our first CSR Award was brought home – for the work with climate partnerships.
Right Now
Samsø Energy Academy is busy as usual in this beautiful autumn. There are conferences, where we are key note speakers.
New speeches have to be prepared. Workshops are being worked on intensively. The planning of new meetings about next year's energy plans in Denmark is in progress. The Energy Academy is well prepared. The preparation of Samsø's masterplan for 2030 is in progress. Denmark has a new governmental basis to which the Energy Academy has to be connected. The Ministry of Climate, Energy and Building has a new minister, Martin Lidegaard, known to us through a long time. We on Samsø are expecting a lot from him.
Last week
Samsø Energy Academy is looking extensively at research accommodations and plans for a new hotel. A possibility worth exploring is to gather the research accommodations and the plans for a new hotel on the empty plot near the Energy Academy. A project group has been established to look closer into it. Mette Løkke – Samsø's Trade and Turist Center – has secured initial capital for the preliminary project to a green hotel. The project is widely support from Samsø and our many close collaborators.
Last weekend
Right now the formulation of our work for 2012 is well on its way. A new campaign for energy savings in private houses, as well as in public buildings is part of the plans for next year. Web of the House is a new tool to energy labeling of buildings which we will use together with the inhabitants of Samsø. The Energy Service is on the task and we are expecting plenty of measures in the individual houses. There are plenty of saving opportunities. Money saved is money earned. Money which is tax-free!!
2 weeks ago
We had a visit from Bhutan. The Leader of the Gross National Happiness Center was in Denmark and on Samsø to see if we could be partners in a network with them. It was a lovely visit. Dr. Saamdu slept at Samsø Gårdmejeri at Bent and Birthe in Kolby. He enjoyed it so much that it was mentioned in his introduction in his speech at the University of Copenhagen. "I have slept really nice at Samsø. There is a good spirit on the island".
The late summer
Samsø Energy Academy was host to the network conference Next Practice with participants from Japan, Australia, Copenhagen, Ålborg and Cornwall. It was so good to hear from our network, that we are on course at Samsø Energy Academy. "Keep doing what you do, that is what we need", was the message. We are hosting the Next Step Two Conference next year.

The Summer at Samsø
Every summer the Energy Academy is opening the doors twice a week. The visitor meets two students who give a guided tour around the house and talk about sustainable solutions. The Energy Academy has felt a raising need from many layers in the society, who wants to know about which alternative energy possibilities there exist.
We have many important visits from all over the world. From Korea over Finland to USA. They want to learn how we have created and are creating new results, which benefit the economy, climate and the local environment.
The summer job at the Energy Academy received many applications from highly qualified students from Denmark and abroad. It was Kasper and Stig, two students from the University of Århus, who were locals from Samsø, that got the job.
Those two Samsø boys made the summer at the Energy Academy swing.
We had approximately 1500 visitors from May to June.
Siemens
Is keeping an eye on Samsø
Simens has with the Samsø story created a beautiful postcard with a solid prehistory, which gives food for thought.
See the balance between landscape, installations and people.
Windturbines are only temporary permanent.
Documentary
The film production company PBS from the USA
The first The Earth Operators' Manual has been created as a movie about fossil fuels and climate changes with selections from all over the world. Now PBS – USA is working on the second movie: What comes after fossil fuels? Samsø is also a part of that movie.
Samsø Energy Academy
Is working on many projects which give us our daily bread.
Projects like: ISLE PACT, Cradle 2 Cradle, Energy Islands, INRES, Masterplan for the fossil free Island, Energy Service, Energy Camp, Energy Safari, BIOMOB, Energy Municipals etc. We are constantly looking for new co-operations and hence a securing of our existence next year.
See more at our website. www.energiakademiet.dk
Samsø Energy Academy will return with the 3. Newsletter in the new year.